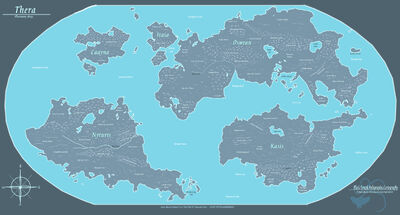 The full map can be viewed here.

**NOTE!**  I am debating/questioning whether or not the entirity of Thera fits in my fictional galaxy.  I have no guarantee that Thera will remain with the Azure Wheel 'canon' or if does, whether or not it will stay the same as it is now.
The third planet from the sun in the Cyriss system.
Thera seems to be a world that defies science. It's native species, Therans, exolved suddenly from another species as if they rapidly mutated from them. Many of the native sentients there practice magiks not seen anyplace else in galaxy. Scientists are baffled and intrigued by Thera, but more religious folk claim that it is the work of the Lifestream that allows such things to happen.
Ad blocker interference detected!
Wikia is a free-to-use site that makes money from advertising. We have a modified experience for viewers using ad blockers

Wikia is not accessible if you've made further modifications. Remove the custom ad blocker rule(s) and the page will load as expected.